Planning your dream wedding and searching for the perfect venue? Look no further!
Explore the enchanting charm of lakefront wedding venues right in your local area.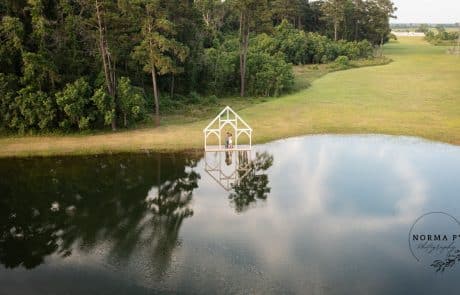 6 Amazing Wedding Reception Venues in the Houston Area
Your dream wedding reception by the picturesque lakefront is just around the corner, especially in the heart of Texas.
Experience the rustic elegance of The Barn At Four Pines Ranch, a breathtaking lakefront venue located in Crosby, TX.
Say "I do" with a stunning lakefront backdrop at this exceptional Texas venue.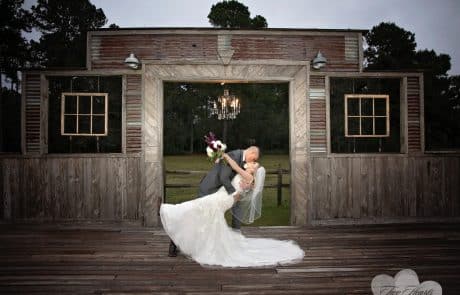 1. The Barn At Four Pines Ranch
Address: 21101 FM 2100, Crosby, TX 77532, United States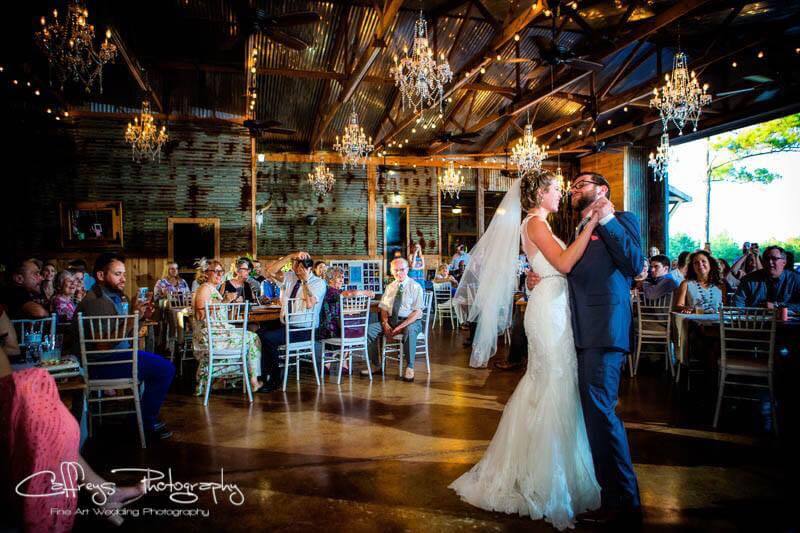 The Barn At Four Pines Ranch is your rustic haven, radiating grandeur and warmth, creating the perfect backdrop for weddings and special gatherings.
Your Perfect Event Awaits
Bridal Haven: The Barn features a breathtaking bridal suite equipped with two showers, a well-appointed kitchen, and custom makeup stations. Privacy and style harmoniously coexist, thanks to one-way mirror-tinted windows.
The Groom's Hideaway: Grooms and their entourage can revel in their private space, complete with a 70-inch big screen TV, pool table, poker table, and a comfortable lounge area. Separate entrances ensure an ideal escape for groomsmen seeking some fun.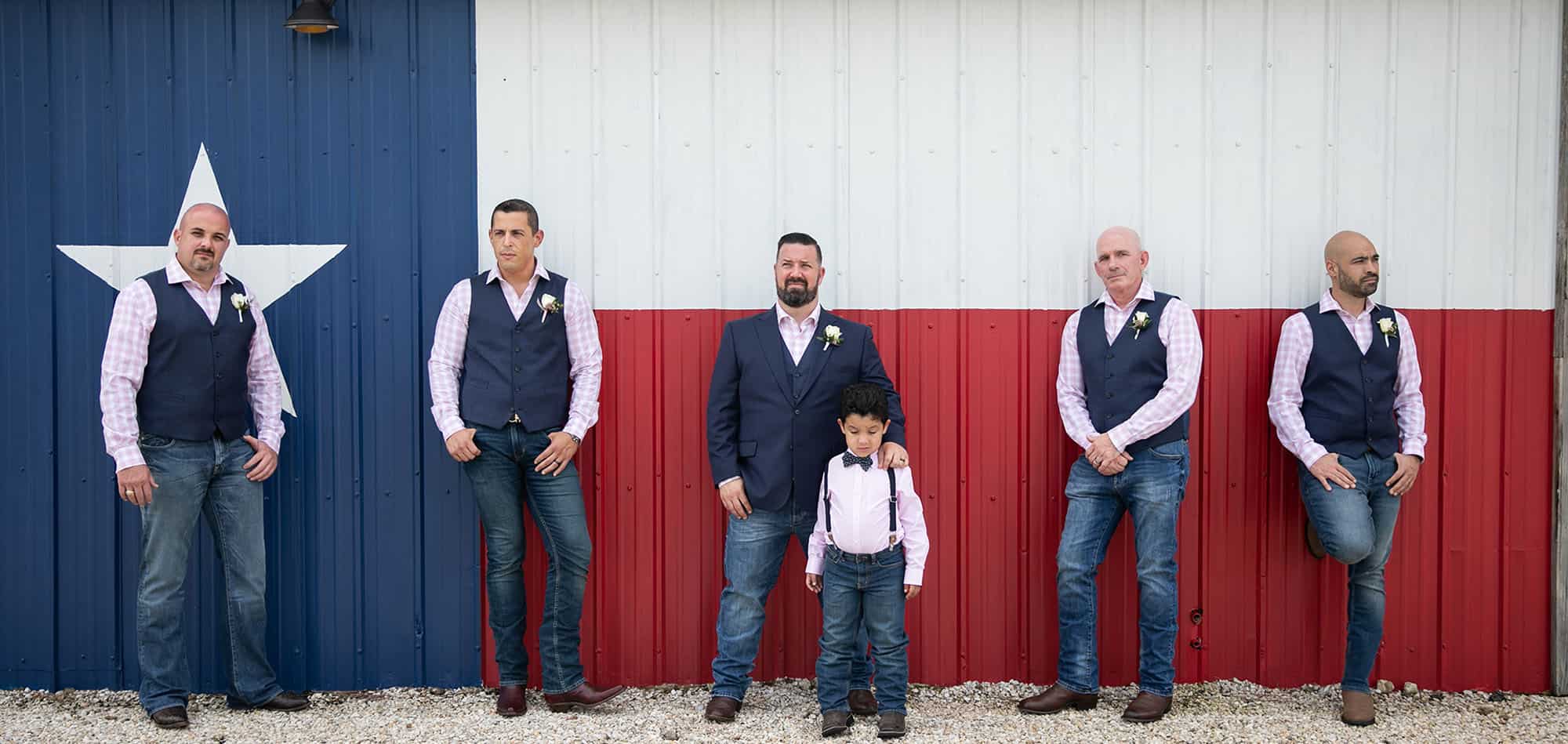 Endless Entertainment: While the bridal party prepares, the groomsmen can enjoy various activities on the vast property, including a full-size softball field, championship fishing lake, frisbee golf course, and a serene swimming pond.
Versatile Event Space: The Barn itself is an elegantly lit event hall, featuring serving areas, a custom serving bar, and a convenient drop-down projector screen. Climate-controlled for year-round comfort, it offers ample space for ceremonies, dining, and dancing, both indoors and on the patio.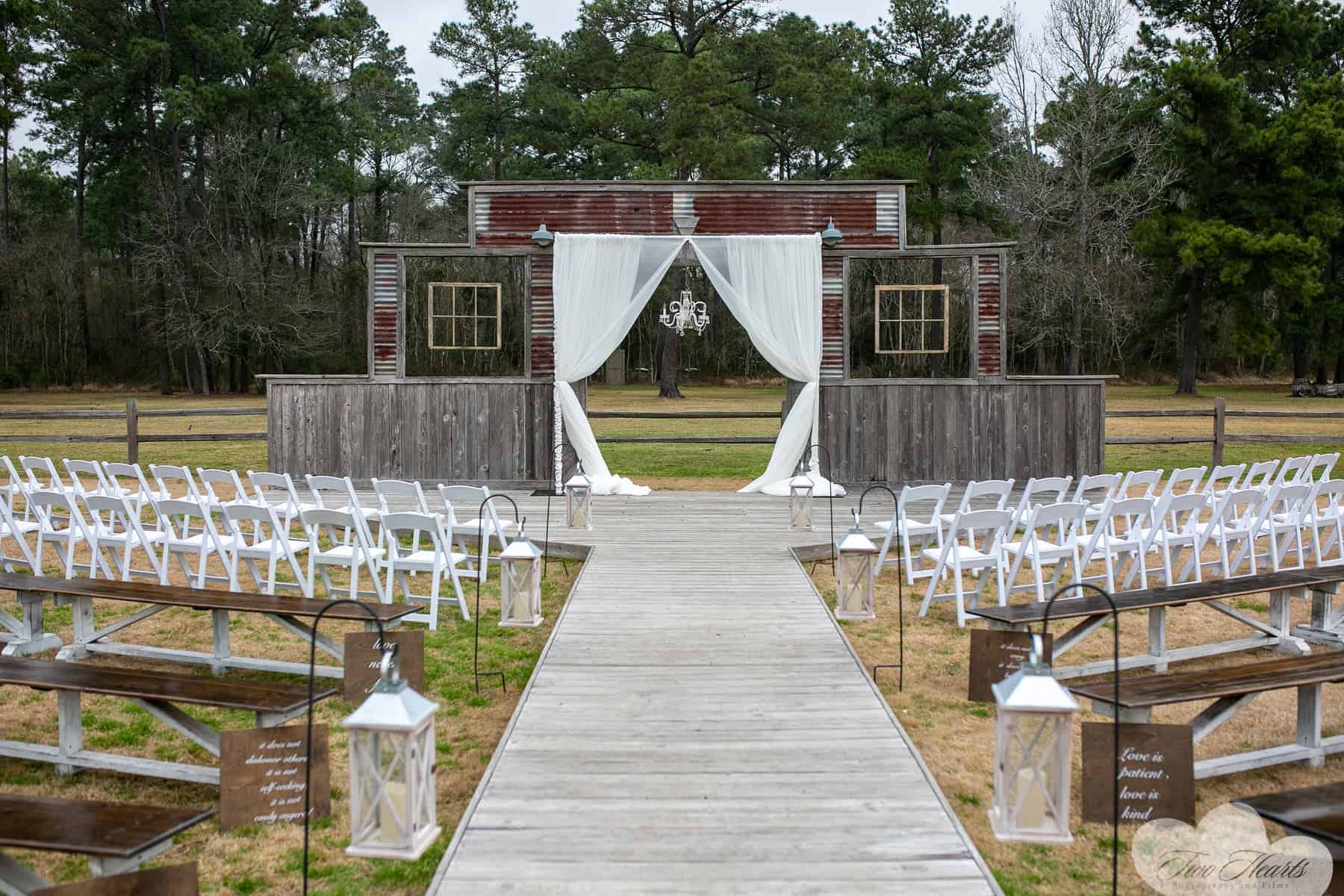 Outdoor Bliss: For those dreaming of an outdoor ceremony, choose from four meticulously manicured ceremony locations, a custom patio, or the ballroom itself. Tall pines, natural woods, and enchanting sunsets provide a picturesque backdrop for your special day.
Capturing Memories: The Barn at Four Pines Ranch ensures that your event's most cherished memories, captured in photographs, are truly breathtaking, whether indoors or outdoors.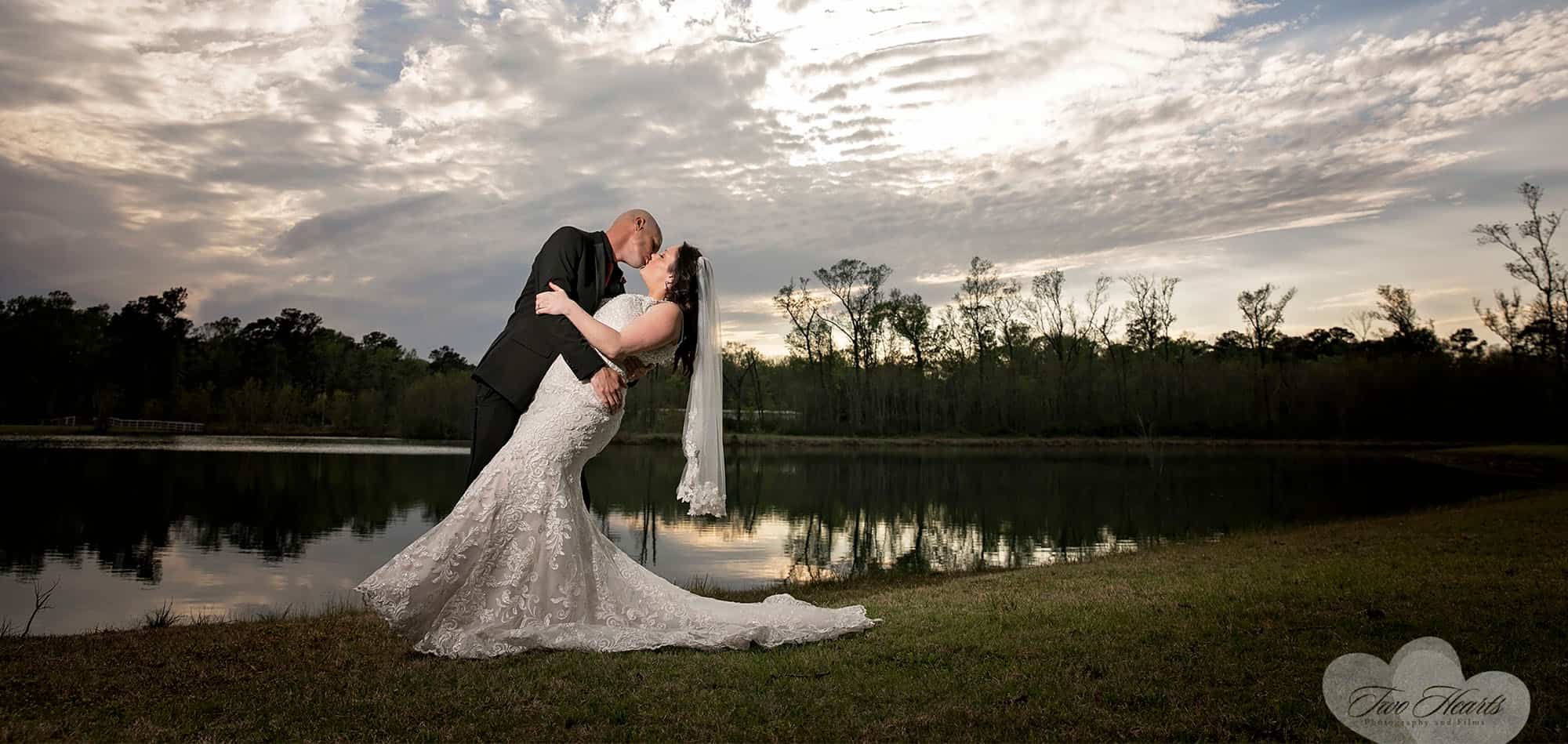 Diverse Event Options
All-Inclusive Weddings: For a pampered, stress-free experience, our all-inclusive packages cover everything from decorations to dinner, customized to your preferences.
DIY Weddings: Designed for the budget-conscious and hands-on bride, our Venue-Only packages provide the space, tables, and seating, allowing you to bring your unique vision to life.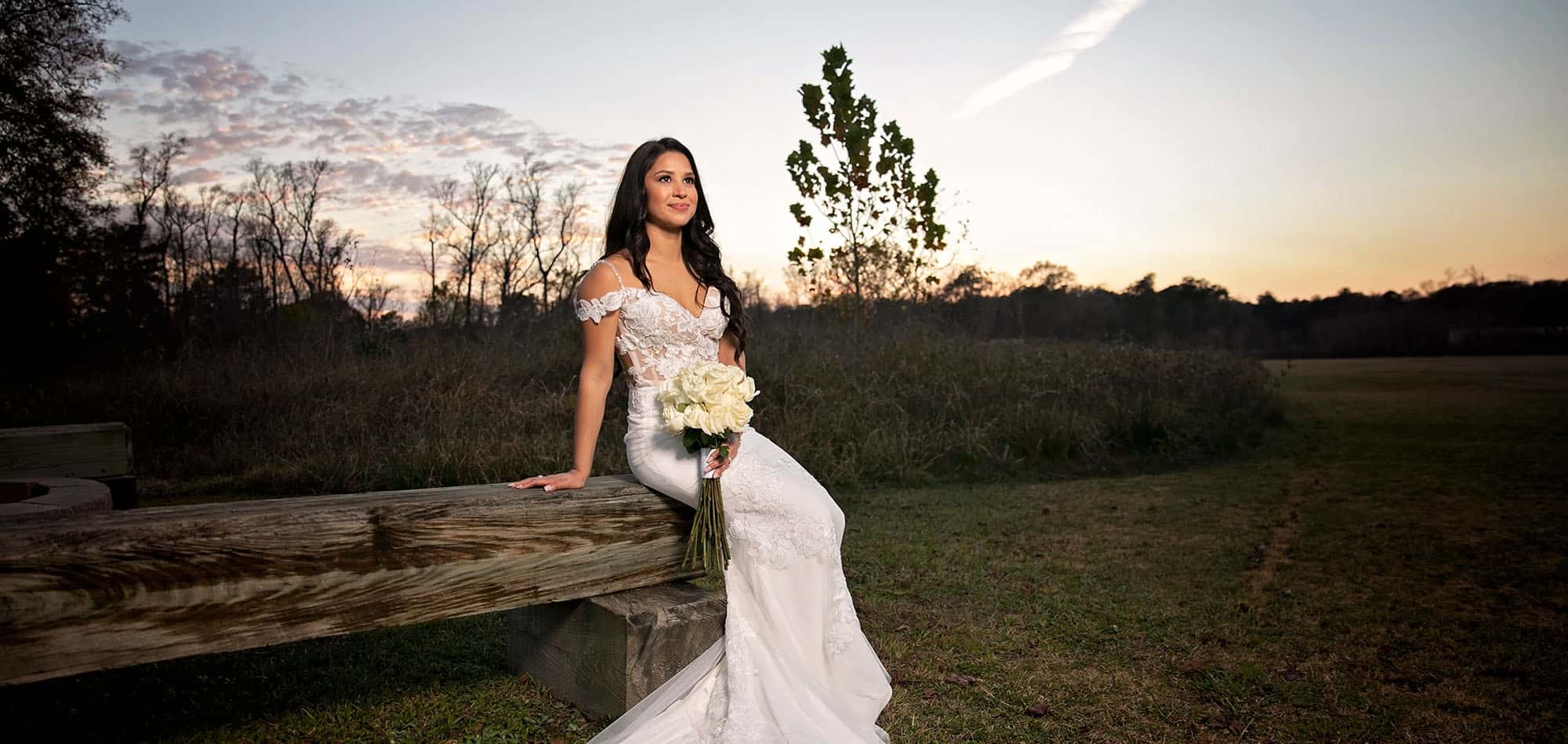 Micro-Weddings: Ideal for intimate gatherings, our Micro-Weddings package is perfect for those seeking a smaller, efficient celebration.
Elopements: A super-efficient wedding package for up to 10 people, ideal for eloping couples who want a memorable yet streamlined ceremony.
Last-Minute Deals: Keep an eye out for occasional last-minute discounts, making it an affordable option for spontaneous events.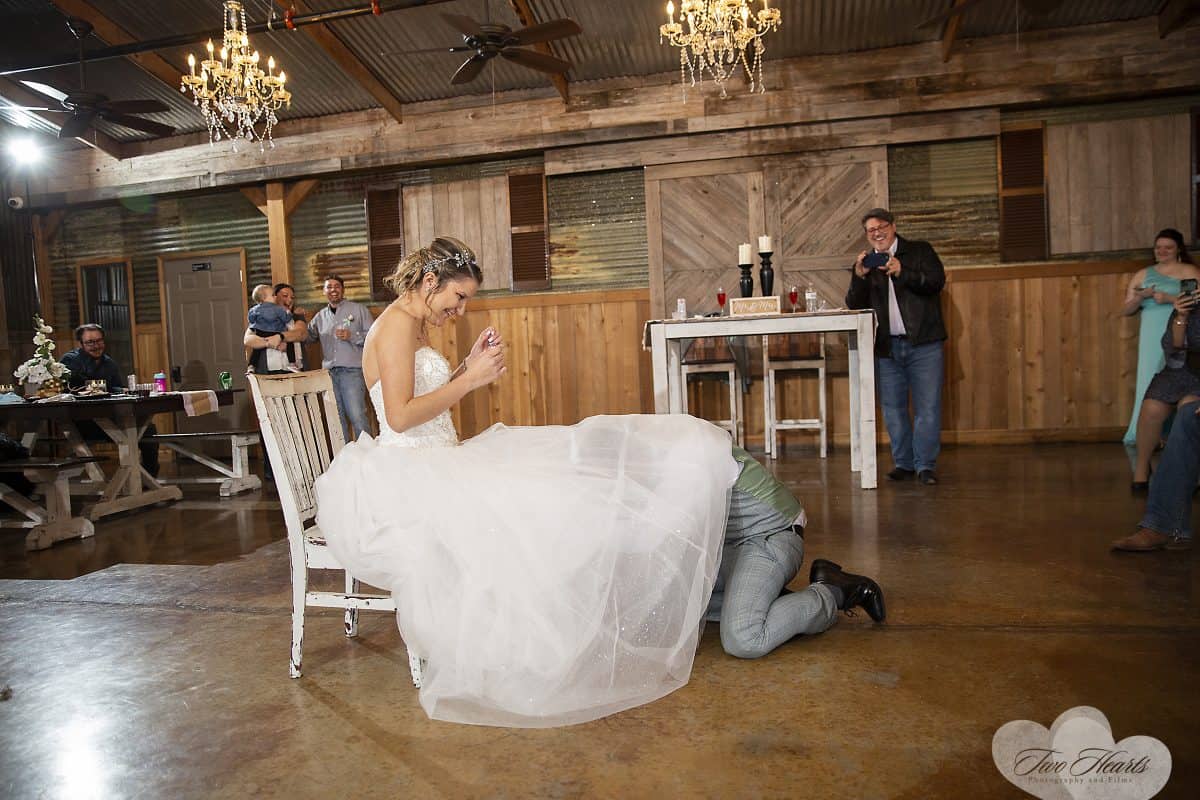 Frequently Asked Questions
Maximum Guest Count: The Barn comfortably accommodates up to 200 guests.
Climate Control: Enjoy heating and air conditioning for year-round comfort.
Ceremony Locations: Choose from various picturesque locations on the property for your ceremony.
Custom Pricing: Prices vary based on factors like guest count, season, and menu choices. Get a custom quote during a FREE WINE TOUR.
Alcohol Policy: Opt to bring your own alcohol or contract a full-service bar.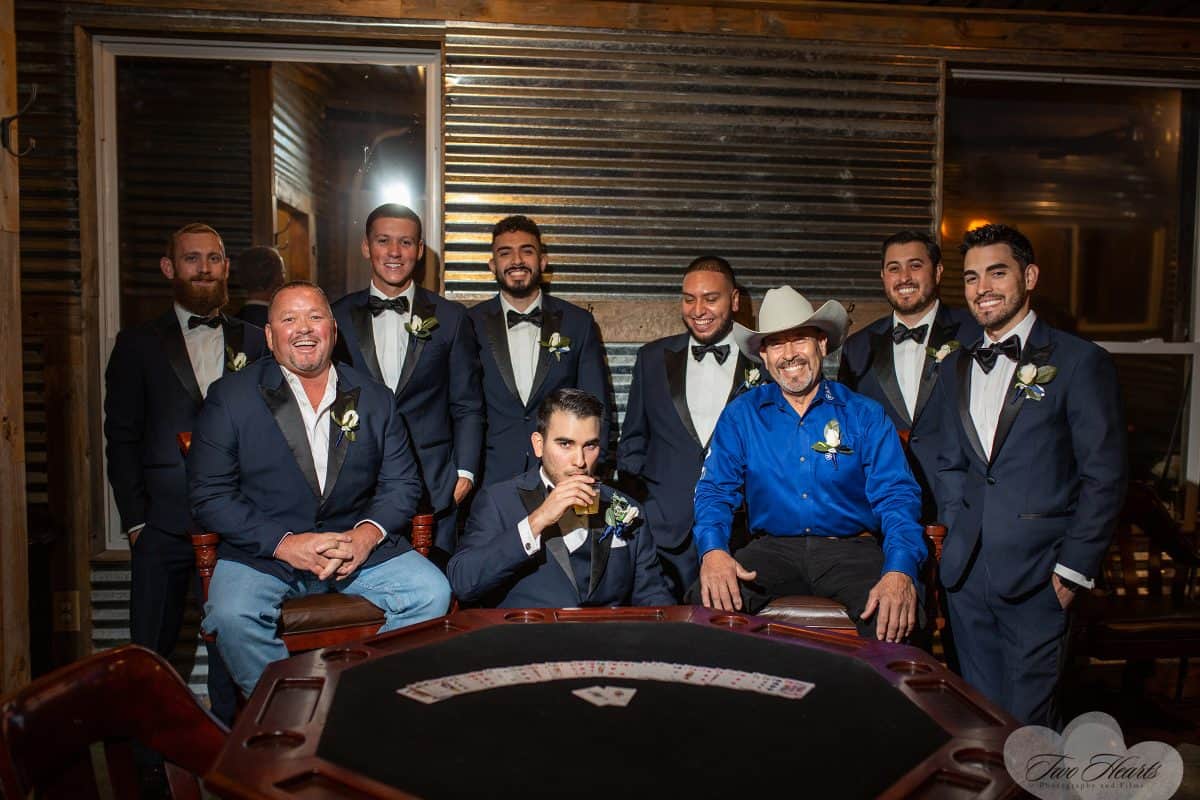 Pet-Friendly: Bring your furry friends, but they must be on a leash and removed after the ceremony.
Venue Hours: Enjoy 13 hours on Fridays and Saturdays, and 10 hours on Sundays through Thursdays.
Vendor Flexibility: Most vendors are welcome; only two are required.
Restroom Facilities: Clean restrooms are readily available throughout the property, including a beautiful handicap facility.
Ample Parking: A spacious, well-lit parking area ensures convenience for all guests.
No Minimum Guest Count: Whether you want an intimate gathering or a grand celebration, The Barn caters to your needs.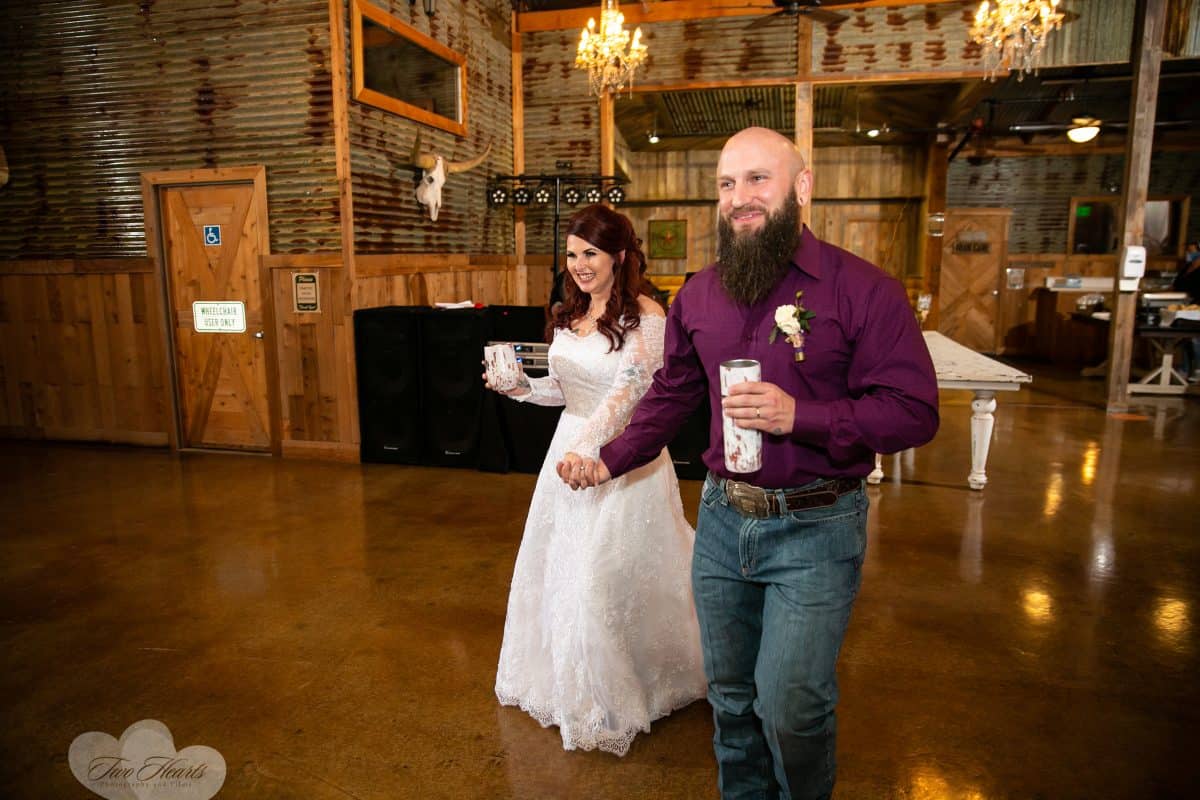 ---
2. HighPointe Estate
Address: 5555 Co Rd 258, Liberty Hill, TX 78642, United States
Where Dreams Come True
Nestled in the heart of Central Texas, HighPointe Estate stands as a captivating haven for couples in search of an unforgettable wedding experience. With its breathtaking hill country vistas and unwavering commitment to exceptional service, HighPointe Estate promises to deliver an enchanting celebration that exceeds all expectations.
A Sweet Beginning
HighPointe Estate's journey began with a love story of its own. Its founders, Dawson and Leanne Clark, stumbled upon their passion for creating magical moments while crafting the flowers for their son's wedding. Witnessing the challenges many couples faced, they embarked on a mission to provide a solution and share their love for weddings with others. Every facet of HighPointe Estate reflects this dedication to couples and event logistics, and their dream is now yours to experience.
"HighPointe Estate will forever hold a place in our hearts. Our wedding was truly magical, thanks to their team."
Venue Spaces
HighPointe Estate offers meticulously designed spaces, carefully curated to set the perfect ambiance for your special day:
The Great Hall: A harmonious blend of old-world charm and modern elegance, accommodating up to 300 guests.
The Chapel: An indoor ceremony venue featuring shiplap walls and arched trusses, ideal for intimate gatherings.
The Gathering Room: A spacious, flexible area with a 35-foot ceiling, perfect for receptions or events.
The Ceremony Tree: Natural outdoor spaces with picturesque views of the San Gabriel River Valley.
The Terrace & Grand Lawn: Outdoor areas for ceremonies and socializing, framed by stunning gardens.
Bride's Suite: A serene oasis designed for bridal preparations.
Groom's Suite: A comfortable space for the groom and his party.
The Moonlight Bungalow: Experience the charm of the 1926 Craftsman Bungalow, lovingly restored and now known as The Moonlight Bungalow. It's the ideal setting for intimate weddings, showers, parties, or rehearsal dinners, offering a unique blend of history and modernity.
Flowers for Your Day
HighPointe Estate offers custom-curated in-house floral services to select clients, ensuring that your wedding blooms with elegance. If in-house services are unavailable, they can connect you with other talented design firms.
Amenities of this Wedding Venue
At HighPointe Estate, you'll find an array of amenities to enhance your experience:
Capacity to host events for up to 300 guests.
Access to the venue for up to 14 hours, allowing for a memorable celebration.
11,500 square feet of climate-controlled space, including The Gathering Room, The Chapel, Bridal Suite, Groom's Suite, Covered Terrace, and Grand Lawn.
Indoor cross-back vineyard chairs and tables for up to 300 guests.
Ample on-site parking with a covered drive-through drop-off.
A large catering kitchen for culinary excellence.
Rates for The Great Hall
HighPointe Estate's transparent pricing includes setup, takedown, and numerous amenities:
Saturday: $12,500
Friday: $8,500
Sunday: $7,000
Monday-Thursday: $5,000
What's included? Set-up and take-down of tables and chairs, outdoor games, beautiful outdoor lighting, cleaning of the building, and much more—all without hidden fees or alcohol markups.
Rates for The Moonlight Bungalow
HighPointe Estate offers all-inclusive packages for The Moonlight Bungalow, ensuring a stress-free event:
3-Hour Elopement Package: Starting at $5,500
6-Hour Micro-Wedding Package: Starting at $8,500
6-Hour Rehearsal Dinner: Starting at $5,300
What's included? Depending on the package, you can enjoy everything from cake to food, beverage, and even a day-of coordinator.
---
3. Feragne Villa Event Venue
Address: 755 Mid Cities Blvd, Hurst, TX 76054, United States
Discover Your Dream Venue at Feragne Villa in DFW
In the heart of Texas, Feragne Villa brings cherished dreams to life. Whether it's a fairytale wedding, a memorable reception, a lively party, or any special occasion, Feragne Villa in Hurst, Texas, offers the perfect setting to transform your event into something truly remarkable.
Elegance and Enchantment Await
At Feragne Villa, sophistication blends with enchantment in a one-of-a-kind, Modern Fairy Tale-inspired venue. Our stunning ballroom boasts over 5,000 square feet of space, featuring Crystal Chiavari chairs, a spacious patio, bride and groom dressing rooms, and an array of eleven dazzling chandeliers draped with white drapery. This enchanting ambiance elevates your special day to new heights, ensuring an elegant wedding that lives up to your dreams.
Pets Are Family Too
We understand that your furry friends are a cherished part of your life. At Feragne Villa, pets are more than welcome to join in on your special day, adding an extra layer of warmth and joy to your celebration.
Flexible Packages for Your Convenience
Feragne Villa offers flexible pricing packages tailored to your event's needs:
Monday – Thursday: Starting at $2,000*
Weekday All Day: $2,500
Friday Evening: Starting at $4,100*
Friday All Day: $4,400
Saturday Morning (8 am – 1 pm): $3,200
Saturday Evening: Starting at $4,800*
Saturday All Day: $5,200*
Sunday Evening: Starting at $3,000*
Please Note:
*A refundable damage-excessive cleaning deposit is required.
Prices are subject to change until a contract is signed with payment.
Our capacity accommodates up to 220 guests.
A safety officer is mandatory for all events.
Rehearsal Dinners to Remember
Experience an unforgettable rehearsal dinner at Feragne Villa, available Monday through Thursday. Enjoy appetizers starting at 6 PM, followed by a sumptuous buffet at 7:00 PM, priced at $35** per person. Elevate the experience with a $150 cash bar option and add $200 per table for fresh flower bouquets. The minimum booking is for 50 guests.
*Deposit: A $1,000 non-refundable and non-transferable deposit is required, with the option to make monthly payments until 30 days prior to your event.
---
4. Stonebridge Wedding & Event Venue
Address: 305 Max Road, Blum, TX 76627, United States
A Picturesque Escape in Blum, Texas
Stonebridge Wedding & Event Venue invites couples to embark on an enchanting journey within its captivating 40-acre sanctuary nestled in the charming town of Blum, Texas. From the very first step onto its grounds, visitors discover an extraordinary destination brimming with history, breathtaking natural landscapes, and a multitude of enchanting ceremony locations.
Exceptional Features and Amenities
Luxurious Bridal House: The fully-furnished Bridal House pampers brides, offering a lavish space equipped with every amenity to prepare for their special day.
Multiple Ceremony Locations: Couples can choose from a variety of breathtaking settings, including the iconic "Tree of Life," a majestic 200-year-old live oak.
Tranquil Cascading Waterfalls: Guests can immerse themselves in the serenity of three captivating waterfalls, creating a soothing atmosphere.
Scenic Waterfront: With over half a mile of waterfront along the Nolan River, Stonebridge provides a gentle and picturesque backdrop for celebrations.
Distinctive Red Sand Cliffs: The venue boasts 25-foot jagged red sand cliffs that add a unique character and charm to the surroundings.
Rustic Elegance: Handmade wooden tables and chairs create an atmosphere of rustic elegance, perfect for receptions.
Elegant Indoor Reception: Tuxedo Hall offers 6,000 square feet of pure elegance with picturesque hill country views.
Decoration Library: Couples can personalize their wedding with an extensive selection of decorations, making their day truly their own.
Comprehensive Support: Stonebridge's dedicated team ensures perfection both on and off-site, leaving no detail overlooked.
Effortless Parking: The venue provides hassle-free parking for all guests, managed by attentive parking attendants.
Culinary Convenience: The prep kitchen at Stonebridge is ideal for catering and meal preparation.
Unlimited Visits: Couples have the flexibility to explore the venue as often as desired leading up to their big day.
Cozy Fire Pit: A welcoming spot for guests to gather and create lasting memories.
Enchanting Flower Gardens: Beautiful blooms enhance the venue's natural charm.
Romantic Walkways: Stroll along tree-lined and garden pathways, creating picture-perfect moments.
Ambiance-Setting Lighting: Stonebridge offers mood lighting to create the perfect atmosphere for celebrations.
Convenient Transportation: The venue provides golf carts with friendly drivers for easy transportation across its expansive property.
Simplified Pricing for Stress-Free Planning
At Stonebridge, they believe in keeping wedding planning simple. Their pricing for the 2023 / 2024 season is as follows:
Saturday: $5,900
Friday or Sunday: $5,200
Weekdays: $4,600
For holiday pricing or special events, couples can contact Stonebridge directly. As a token of appreciation, Stonebridge extends a generous 10% military discount.
Real Stories from Couples
"This venue made our day truly magical, and the family that runs it is amazing! They were friendly, caring, and helpful every step of the way, making us feel like part of the family. We highly recommend this venue to anyone looking! Love it and the people!" – Jessica M.
"Matt and Tracy got married here last month, and the venue was absolutely spectacular. Many family members quoted it as being from 'Southern Living' magazine. No details were spared!" – Amy S.
"We adore this wedding venue! It's the perfect blend of rustic and elegance we envisioned for our special day, and we can't wait to get married here in November! The owners are so friendly; they truly make us feel like part of their Stonebridge family." – Chasity G.
"We attended our great niece's wedding here last weekend. We do events for a living, and we were very impressed with this venue. The owners and their family were very helpful. We loved it so much that we've booked our daughter's wedding here in the fall." – Laura S.
---
5. Stillwater Meadow
Address: 9842 E Bankhead Hwy, Aledo, TX 76008, United States
A Family's Dream, Your Perfect Venue
In the heart of Aledo, TX, Stillwater Meadow stands as a testament to the enduring power of family and love. In 2016, the Goldbergs, a close-knit clan, embarked on a remarkable journey to create a venue that embodies the essence of joyful celebrations. Brothers used their skills to frame the buildings, grandparents contributed their artistry to craft stained glass, and a united team of siblings, cousins, uncles, significant others, and friends meticulously assembled the interior details. The result is a testament to their shared vision.
An Enchanting Oasis
Stillwater Meadow, named after the serene pond and picturesque field that grace its grounds, offers a charming event venue that feels like a haven of tranquility. This expansive property boasts a scenic wedding chapel, an inviting reception hall, and separate get-ready spaces thoughtfully designed to cater to wedding parties. The Cottage is a delightful retreat, complete with a well-equipped kitchen, a mirrored salon, and expansive porches at the front and back of the house. The 1905 Cabin, a beautifully remodeled ranger station, offers a relaxed atmosphere with a welcoming patio area.
The Chapel, adorned with exquisite stained-glass windows and antique pews, provides an enchanting setting for indoor ceremonies. For those who dream of an outdoor ceremony, the chapel's sides open up to seamlessly blend the beauty of the outdoors with the comfort of indoor facilities. The two-story Reception Hall, capable of accommodating up to 225 guests, boasts exposed wooden beams and grand chandeliers that cast a warm, welcoming glow. String lights drape from the mezzanine level, creating a magical ambiance for unforgettable receptions. What's more, all four buildings are climate-controlled, ensuring comfort for celebrations year-round. An adjacent AirBnB that sleeps 16 offers a convenient lodging option for wedding parties and families, making Stillwater Meadow an all-encompassing oasis.
Celebrate with Ease
Stillwater Meadow offers a range of meticulously crafted packages, each designed to cater to the unique needs of couples.
Package #1: Includes a full venue rental, tables and chairs for up to 225 guests, access to a screen and projector, pre-wedding consultations with the Stillwater team, one hour for rehearsal, bridal and engagement photos on the property, outdoor lighting, use of decor from their storage room, on-site event management, and post-event cleaning. The rental period spans from 10:00 am to 11:00 pm (9:00 pm on weekdays).
Package #2: Encompasses everything in Package #1 and adds month-of wedding coordination for couples seeking expert guidance during the final stretch of their wedding preparations.
Package #3: Is the pinnacle of celebration at Stillwater Meadow, including all the offerings of Package #2 with the addition of wedding day decor setup in the Chapel and Reception Hall.
Elopement Packages are also available, offering a condensed celebration for those who seek a more intimate affair.
Your Questions Answered
Stillwater Meadow prides itself on transparency. There are no hidden fees, and the packages clearly outline what is included. While bartenders and security must be provided, you have the flexibility to choose your vendors for most services, provided they are licensed and insured.
The standard rental period is from 10:00 am to 11:00 pm, with options to extend your time. To secure your date, simply pay the booking fee and sign the contract.
The venue offers a range of amenities, including tables, chairs, decor, a catering kitchen, refrigeration facilities, and more. Additionally, packages are available for set-up, tear-down, and cleaning services.
Pricing that Fits Your Budget
Stillwater Meadow understands that every couple's needs and budget are unique. Their pricing structure reflects this with tiered rates based on the day of the week and the package selected. Discounts are available for active duty, veterans, teachers, first responders, and events with 50 guests or fewer.
---

Ultimate Wedding Venue Reception Guide: Texas Edition
| | |
| --- | --- |
| Question | Answer |
| 1. How do I start searching for wedding venues near me in Texas? | Begin your search by using online wedding venue directories, social media, or asking for recommendations from friends and family in the area. |
| 2. What factors should I consider when choosing a wedding venue in Texas? | Consider your budget, guest count, preferred style (e.g., rustic, modern, beachfront), location, and available amenities like catering services, parking, and accommodations. |
| 3. How far in advance should I book my wedding venue in Texas? | It's advisable to book your wedding venue at least 9-12 months in advance, especially for popular dates and venues. |
| 4. What is the average cost of renting a wedding venue in Texas? | Wedding venue costs can vary significantly, but on average, expect to spend between $3,000 to $10,000 in Texas. Luxury venues may cost more. |
| 5. Are there any outdoor wedding venues in Texas suitable for all seasons? | Yes, Texas offers a variety of venues with outdoor options, but consider the weather during different seasons and have a backup plan in case of rain or extreme heat. |
| 6. Can I bring in my own catering for the wedding reception at the venue? | Many venues offer in-house catering services, but some may allow outside caterers. Check with the venue's policies and any associated fees. |
| 7. What is included in a typical wedding venue package in Texas? | Packages can vary, but they often include the rental of the venue space, tables, chairs, linens, and sometimes basic decor. Be sure to ask for specifics. |
| 8. Is it common for wedding venues in Texas to have on-site lodging for guests? | Some venues offer on-site lodging options like cabins or suites for the couple and guests. Check with individual venues for availability. |
| 9. Are there any restrictions on music and entertainment at Texas wedding venues? | Some venues have noise restrictions or may require you to use their preferred list of vendors for entertainment services. Clarify these details during the booking process. |
| 10. What permits or licenses do I need for a wedding reception in Texas? | You may need permits for outdoor events, alcohol service, and music depending on the venue's location and local regulations. It's essential to check with the venue and local authorities to ensure compliance. |

---
Notable landmarks to visit for your Texas destination wedding:
The Alamo – Located in San Antonio, this historic site is a symbol of Texan independence and a must-visit for history enthusiasts. Guests can explore the preserved mission and learn about its significance in Texas history.
NASA's Space Center Houston – Situated in Houston, this space exploration hub provides an immersive experience. Guests can learn about space missions, see astronaut artifacts, and even touch moon rocks.
Big Bend National Park – A vast expanse of natural beauty in West Texas, Big Bend offers hiking, stargazing, and breathtaking landscapes. It's a great destination for outdoor enthusiasts.
The Sixth Floor Museum at Dealey Plaza – Located in Dallas, this museum explores the life and legacy of President John F. Kennedy. Guests can visit the site of the infamous assassination and learn about its historical context.
San Antonio River Walk – A charming network of waterways and walkways in San Antonio. Guests can enjoy scenic boat rides, dining, shopping, and vibrant nightlife along the river.
Galveston Island – A coastal gem with historic architecture, beaches, and attractions like Moody Gardens and the historic Pleasure Pier. It's a great spot for relaxation and entertainment.
Fort Worth Stockyards – A taste of the Old West in Fort Worth. Guests can witness daily cattle drives, explore Western shops, and enjoy live music and entertainment.
The Texas State Capitol – Located in Austin, this stunning capitol building offers guided tours and a glimpse into the state's political history. Guests can also explore the beautiful grounds.
These landmarks offer a diverse range of experiences, ensuring that your wedding guests will have plenty to see and do while enjoying their time in Texas. Visit this link for more.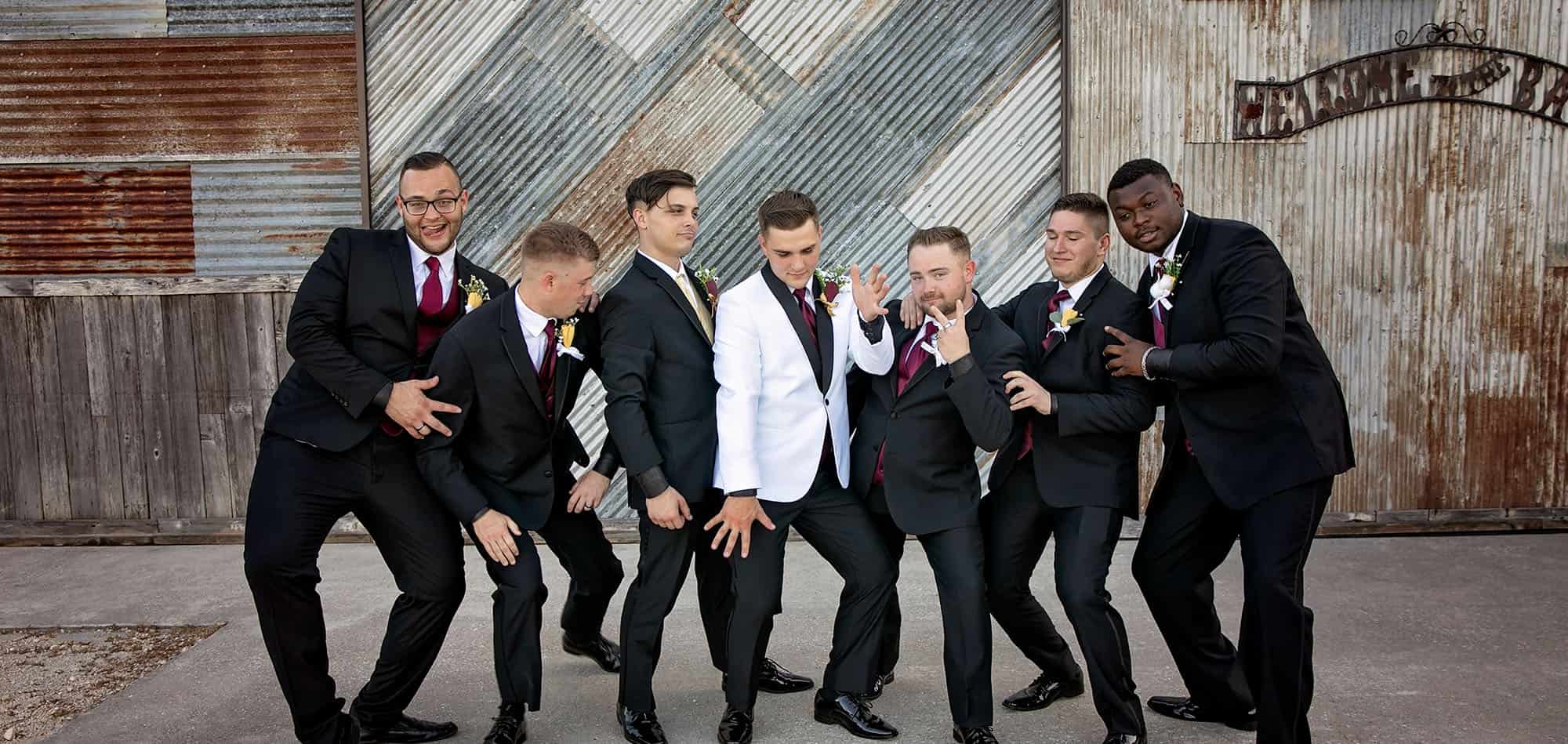 Good Luck Finding Your Wedding Venue!
Wishing you the best of luck in your search for the perfect wedding venue! Planning a wedding venue reception in Texas can be a delightful journey, but it also involves careful consideration of various factors. From budget and style preferences to booking timelines and potential restrictions, these FAQs provide valuable insights to help couples navigate the process with confidence. The result? A memorable and seamless celebration in the heart of Texas that you'll treasure forever. Happy planning!