The Barn At Four Pines Ranch is the perfect place to remember the life and memory of a cherished one…
We understand that losing a loved one can be very stressful and sad. It's hard enough to go through the grieving process, let alone find time to plan your Celebration of Life (COL). We sympathize and are here to help…
We can help you relieve and take all the pressure off you and your family. Let us handle the planning, and all of the stress if you want, or we can guide you on how to do it yourself. Our venue is perfect for a very small gathering of people to celebrate the life or a large group of people with plenty of space and parking for everyone.
Fill out the form below to receive our Celebration of Life pricing brochure.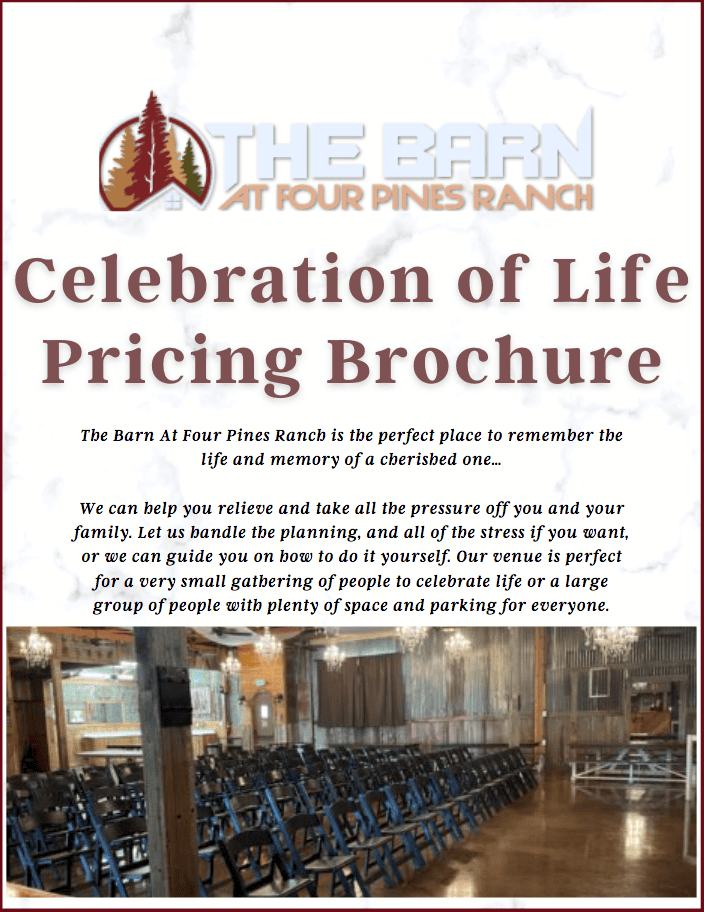 Our property is manicured and designed to host large groups if needed. We have two beautiful lakes on the property and 60 acres of land. There is plenty of space for friends and family to reflect and be alone on this important day.
We are ideally located on the east side of the Houston metropolitan area, near Lake Houston.
Seating capacity up to 200 guests
Two private suites for family privacy
Gorgeous patio and several outdoor areas for guests
Beautiful onsite locations for privacy and reflection
Preferred vendors or bring your own
Convenient and generous time frames
When you are ready to plan your celebration of life, we are here. All we need is to meet on a private tour and show you the facility. We can meet every need with our indoor air-conditioned and heated space that works in every month of the year. Please reach out to us to set up a private tour.
We have two package levels for your convenience, Gold and Silver, for Weekday and Weekend COL's. Packages are booked within 90 days or less.
Includes:
Four hours of indoor/outdoor venue access
Indoor restroom facilities
Two private suites
Video screen for memories (no projector)
Year-round landscaping and reflection spots
Outdoor pavilion and patio
Tables and seating included for 160 or less
Ample parking
Use our vendors or yours
Tea, water and lemonade
Extras:
Day of Planner $350
200 chairs $350
Food and appetizers by design
Photo package $500
When you are ready, please reach out by phone, text or simply schedule a private tour here. We are here to help…