6 Breathtaking Outdoor Wedding Venues in Houston
Are you planning your dream outdoor wedding in Houston, Texas? Look no further! We'll showcase our favorite venues around Houston with gorgeous outdoor settings, including our venue The Barn at Four Pines Ranch.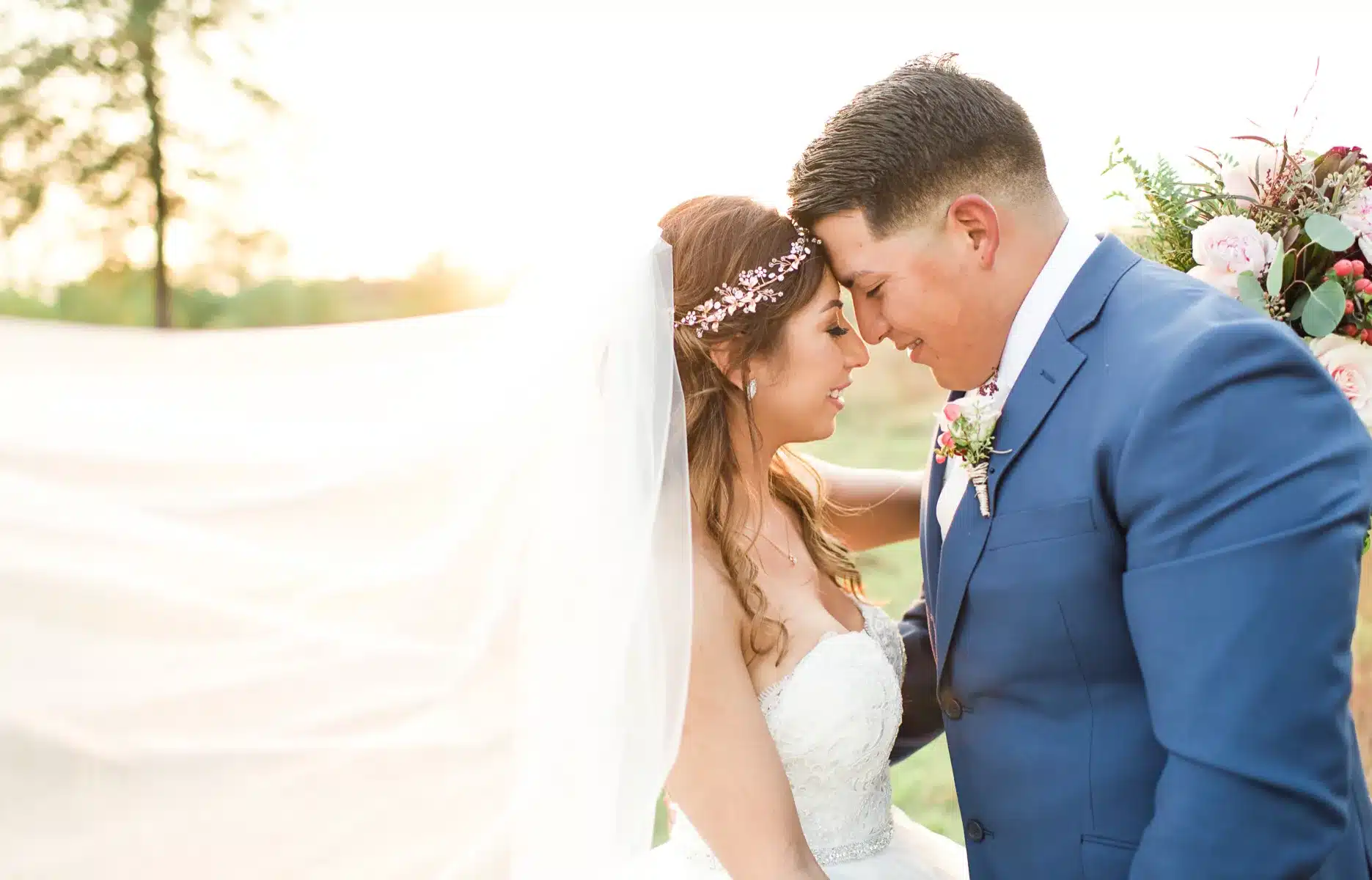 Discovering the Perfect Outdoor Wedding Venues in Houston
From the rustic elegance of The Barn at Four Pines Ranch to the enchanting Fountain View Farm, we've scoured the city to bring you the finest options for your special day. Explore these hidden gems that offer the perfect backdrop for your wedding celebration.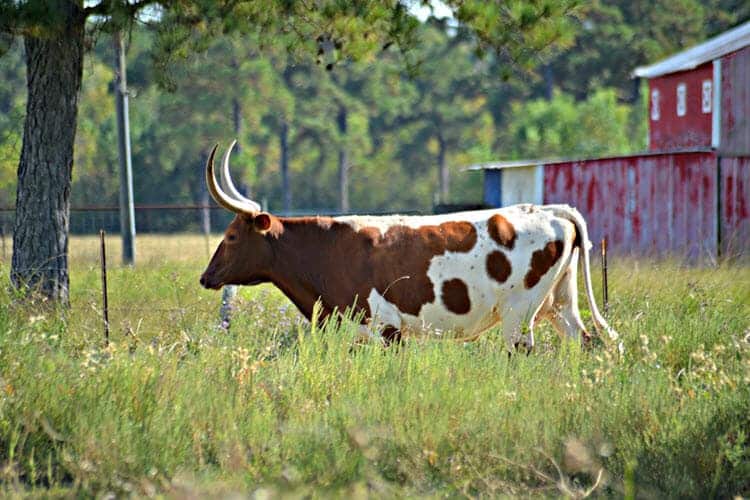 1. The Barn at Four Pines Ranch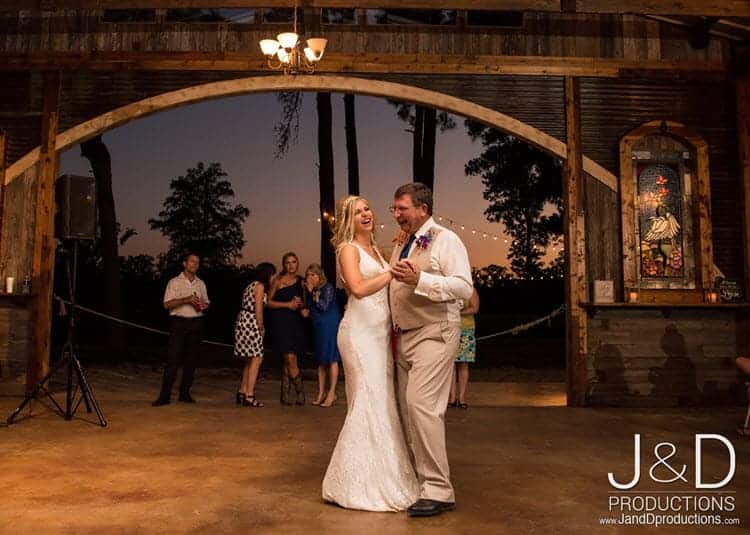 Where Rustic Elegance Meets Nature's Tranquility
Address: 21101 FM 2100, Crosby, TX 77532, United States
Key Features: Outdoor Spaces, Affordable, All Inclusive or Venue Only Options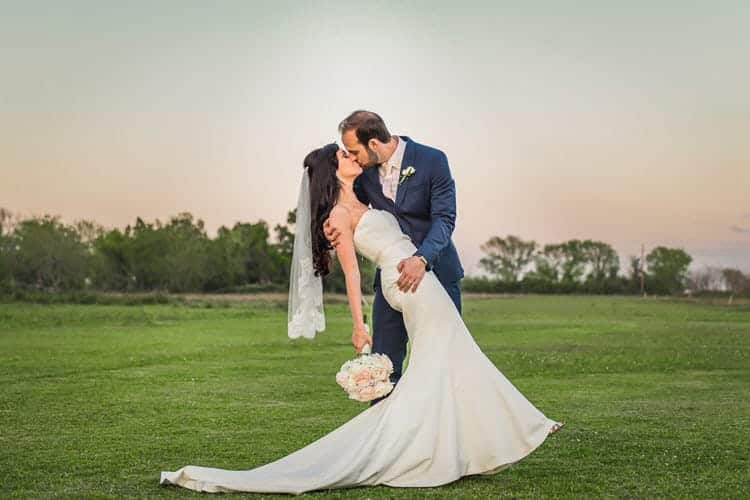 Outdoor Elegance: Why Four Pines Ranch is Ideal for Outdoor Weddings
When it comes to outdoor weddings, The Barn at Four Pines Ranch stands out as an ideal choice. Here's why:
Picturesque Setting: Nestled on a working cattle ranch, this venue boasts lush lawns, serene waters, and towering trees, providing a serene and natural backdrop for your special day.
Timeless Barn Design: The original barn design seamlessly combines rustic wood tones with elegant metal accents. Classic chandeliers add a touch of sophistication to your celebration.
Unforgettable Ceremonies: Exchange your vows in enchanting locations, whether it's on the boardwalk-adorned Reception Hall, lakeside, or under the shade of majestic trees. The covered patio and Barn also serve as perfect ceremony spots.
Charming Reception: The Barn's interior features dazzling chandeliers, ample space for dining and dancing, and well-equipped bar and preparation areas. Luxurious dressing rooms ensure both the bride and groom are pampered and prepared.
Thoughtfully Designed: With facilities designed to accommodate up to 200 guests, The Barn at Four Pines Ranch provides an ideal canvas for crafting cherished memories.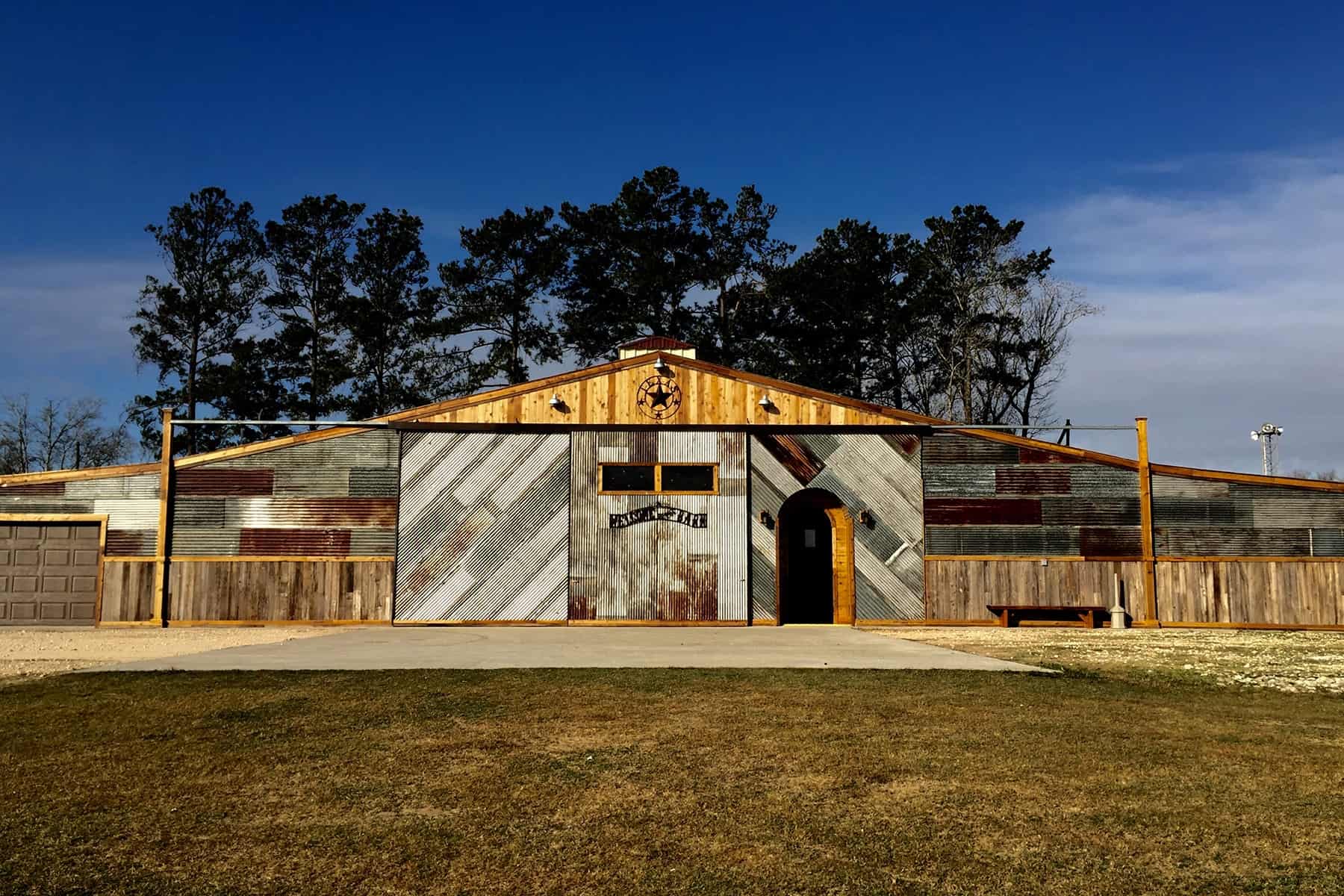 More Information About Our Venue
Rustic elegance meets charming garden venue.
Complimentary bridal and engagement photos amidst stunning surroundings.
Multiple dance floors, lakeside beauty, and a cozy fire pit for added charm.
Luxurious Bridal Suite for pampering and preparation.
Man Cave entertainment featuring a smart TV, poker, and pool.
Outdoor fun activities like frisbee golf and a baseball/softball field.
A variety of captivating outdoor ceremony sites to choose from.
Rain-proof options with a covered pavilion and backup generator.
Longhorn cattle that add a touch of Texan charm to your celebration.
Seamless planning with our dedicated and friendly team.
Experience The Barn at Four Pines Ranch – Your Celebration, Your Way.
2. Lago Mar Lagoon Country Club
Address: 12930 Crystal View Blvd, La Marque, TX 77568, United States
Key Features: Country Club, Elegant Palm Trees, Pool and Beach Setting
An Extraordinary Blend of Refined Luxury and Natural Beauty
Impeccable Service: A team of dedicated professionals ensures your day unfolds seamlessly, allowing you and your guests to revel in impeccable hospitality.
Culinary Excellence: Indulge in award-winning gastronomy crafted by Executive Chef Marshall Levy and his culinary artisans, a feast that tantalizes the senses.
Captivating Backdrops: Exchange vows against the stunning vista of the private golf course, followed by a poolside cocktail soiree and an elegant evening of dinner and dancing.
Exclusive Perks: Tailor-made experiences for bachelor and bridal parties, with special golf packages for an added touch of camaraderie.
A Glimpse into Lago Mar
Stunning Views: The 18-hole championship golf course offers an enchanting backdrop for your celebration, surrounded by lush greenery and the tranquil Lago Mar Lagoon.
Seamless Transitions: From outdoor ceremonies to poolside cocktails and upscale indoor receptions, Lago Mar hosts every facet of your special day effortlessly.
Exquisite Offerings
| | |
| --- | --- |
| Venue Details | Pricing & Inclusions |
| Event Spaces | 2 |
| Setting | Indoor, Uncovered Outdoor |
| Services | Clean Up, Event Planning, Event Rentals, Get Ready Rooms |
| Event Items | Aisle Markers, Centerpieces, Lighting, Tables, Tents, and more |
| Food & Beverage | Barware, Glassware, Linens, and more |
| Transportation & Access | Parking, Valet, Wheelchair Access |
Embrace the allure of Lago Mar Lagoon, where the Lago Mar Country Club redefines celebrations, turning each moment into a masterpiece of elegance and joy.
3. Fountain View Farm
Address: 24500 Drivers Rd, Splendora, TX 77372, United States
Where Elegance Meets Convenience
Key Features: Easy Access, Bridal Suite, Spacious Layout
A Distinctive Wedding Venue with a Gorgeous Fountain & Gardens
Prime Location: Situated just off Highway 59/I-69, the venue provides easy access, ensuring a seamless arrival for cherished guests with no winding backroads, only straightforward transitions.
Vendor Flexibility: Fountain View Farm accommodates your choices by welcoming preferred wedding professionals or providing a curated list of trusted vendors, allowing couples to create their own magical day.
Stress-Free All-Inclusive Packages: Say farewell to wedding planning stress. All-inclusive packages transform the wedding journey into an exhilarating adventure, free from unnecessary worries.
Spacious Splendor: Recently expanded, the ceremony and reception venue generously accommodates up to 250 guests, offering ample space for celebration, dining, dancing, and memory-making.
Picture-Perfect Moments: Every corner of Fountain View Farm resonates with photogenic allure, from the majestic grand staircase to the cascading fountains, ensuring unforgettable memories.
Elegance Awaits: Opulent dressing suites, complete with lavish amenities, provide a stylish and comfortable space for couples to prepare for their journey of a lifetime.
Incredible Inclusions
Majestic Reception: An indoor reception space featuring a grand staircase, sun-kissed ambiance, and a stone fireplace creates a haven for up to 250 cherished guests.
Bridal Elegance: The Bridal Suite is a luxurious retreat with a wine room, vanities, a floor-length mirror, and a private ensuite—a cocoon for the blushing bride.
Nature's Embrace: Vows under the azure sky in the outdoor chapel, adorned with a stone bridge and an arbor, set the stage for an eternal promise.
Groom's Haven: The Groom's Suite offers entertainment delights like a TV, Xbox, and Pool Table, ensuring the groom's smile matches the bride's.
A Breath of Nature: The open-air pavilion serves as a dynamic space for an outdoor cocktail hour, complete with captivating corners and yard games for cherished memories.
4. The Springs in Magnolia | Stonebridge Hall + Pinehaven Hall
Address: 33301 Old Hempstead Rd, Magnolia, TX 77355, United States
Price range: $3k – $4k (For 100 Guests)
Chic Wedding Venues
The Springs in Magnolia presents two enchanting event venues: Stonebridge and Pinehaven. These venues blend Southern allure with woodland sophistication, epitomizing elegance.
Stonebridge Hall
Stonebridge emanates timeless elegance with polished white limestone walls that exude sophistication. A charming wood pavilion provides a picturesque backdrop for outdoor ceremonies. An elegant reception hall awaits, complete with private suites and captivating amenities, accommodating up to 320 guests.
Pinehaven Hall
Radiating rustic charm, Pinehaven captivates with its natural wood finishes and year-round landscaping. The indoor reception space features wood-beam trusses and modern ranch-house fixtures, creating a warm celebration haven surrounded by loved ones.
Immersed in Nature's Embrace
Soft light filters through tall windows, enveloping guests in the serene ambiance of magnolia trees. The tranquil surroundings provide a canvas for unforgettable moments where nature and celebration entwine harmoniously.
Package Inclusions
15-hour full-day rental from 9 am to midnight
Indoor and outdoor chairs, along with tables
Indoor and outdoor ceremony options
Expert furniture setup and takedown
2 spacious wedding suites featuring private restrooms
Dedicated event day venue attendant
Year-round comfort with indoor heating and air-conditioning
2-hour photo appointments for engagement or bridal shoots
Unlimited site visits for seamless planning
Flexible venue payment options
Vendor flexibility (excluding bartending and security)
Unveiling the Possibilities
Experience wedding planning like never before with The Springs in Magnolia's vendor package, designed to elevate and simplify the journey. This package, available to couples across their Houston venues, brings together essential vendors to curate a seamless celebration.
Your Ultimate Wedding Experience
With 17 award-winning venues spanning Texas and Oklahoma, The Springs prides itself as The Wedding Venue Experts. As couples embark on this exciting journey, The Springs venues stand ready to transform their dream wedding into a breathtaking reality.
5. Hotel Granduca Houston
Address: 1080 Uptown Park Blvd, Houston, TX 77056, United States
Discover a Luxury All-Suite Boutique Hotel
Guests are welcomed to Hotel Granduca, an exclusive escape from the city bustle, nestled in the heart of Houston, Texas. It's a Tuscan-inspired haven where luxury meets charm, boasting 122 recently updated suites that seamlessly blend modern comfort with the ambiance of an enchanting Italian villa.
Luxurious & Elegant Accommodations
At Hotel Granduca, the meaning of sophisticated comfort within serene surroundings is redefined. The suites, featuring meticulously updated furnishings and signature touches, transport guests to the heart of an Italian villa. Every stay is an elegant journey, and every room tells a unique story of opulence and tranquility.
Service & Experiences That Enchant
Live Music: Giorgio's Bar and Table sets the stage for resident pianists, enchanting guests with delightful tunes that span from timeless classics to modern scores. Here, sophistication meets melody, creating an atmosphere that resonates with the soul.
High Tea: Guests can embark on a refined Italian twist to grand afternoon tea. Sip, dine, and embrace the flavors of the carefully crafted high tea experience, a true ode to luxury.
Brunch: Weekends are elevated with a decadent array of Italian favorites, classic brunch dishes, and handcrafted cocktails. Each bite is a journey through exquisite flavors.
Elegant Dining: Guests can indulge in the culinary artistry of Chef Maurizio Ferrarese in the exquisite restaurants – Alba Ristorante, Il Giardino, and Giorgio's Bar and Table. Savory, sumptuous, and utterly unforgettable.
Celebrate at Hotel Granduca
Lifelong memories can be crafted by hosting weddings and events in the stunning spaces:
Garden Courtyard: An enchanting ambiance for candlelit ceremonies surrounded by lush greenery and timeless elegance awaits those who choose this venue.
Salone Rialto: The 1,500 sq ft event space features hand-painted ceilings, a glass-enclosed atrium, and room for up to 120 guests. It's where dreams become reality.
An Unforgettable Fête
The magic of unique venues, customizable menus, and romantic charm found only at Hotel Granduca can be experienced. The vision takes center stage in a setting like no other, making every celebration an extraordinary event to remember.
Cherish the Manor Moments
Life's milestones find their perfect backdrop at Hotel Granduca. Private rooms, abundant amenities, and infinite setup possibilities ensure an unforgettable celebration.
6. Richland Pines Event Venue
Address: 1162 Rhonda Rosa Rd, Wallisville, TX 77597, United States
Immerse in the enchantment of pine-lined pathways and tranquil ponds, offering a rustic yet elegant setting for your dream wedding.
Experience Rustic Elegance: Guests can immerse themselves in the allure of pine-lined pathways and serene ponds, setting the stage for their dream wedding.
Unveiling a World of Possibilities: Our Services
Richland Pines stands as a premier destination for hosting diverse events, featuring an exceptional venue team and collaborations with top-tier vendors.
Perfect for Every Occasion: From company gatherings to special celebrations, Richland Pines caters to a range of events, including corporate networking functions and unforgettable sweet 16 parties.
FAQs
Exclusive Focus: Richland Pines dedicates itself to the special day, booking only ONE event per day to provide undivided attention.
Spacious Accommodations: With a reception area for 250 guests and outdoor ceremony seating for 150, guests' comfort is a priority.
Time to Shine: Revel in a generous 15-hour rental period, with options for celebrations from 9:00 a.m. – 12:00 a.m. or 10:00 a.m. – 1:00 a.m.
Embrace the Outdoors: Access to the outdoor area throughout the event, even during cocktail hour, ensures a seamless flow.
Seamless Setup: Venue doors open at the scheduled time, ensuring a smooth start to the event.
Personalize Your Experience
Your Unique Touch: Bringing personal decor to make the space uniquely theirs is encouraged.
Premium Bartending Service: Couples can choose from preferred vendors for top-notch bartending service.
Flexible Payment Plans: Flexible payment plans tailored to specific needs are available.
Details That Make a Difference
Accommodating Your Guests: The spacious bridal and groom suites, complete with amenities, ensure everyone feels pampered.
Furniture Provided: Richland Pines offers tables and chairs for up to 250 guests and 150 white resin chairs for ceremonies.
Plan B Ready: Transitions to indoor ceremonies can be done seamlessly in case of rain.
Expert Support: Couples can count on dedicated staff, onsite to ensure a flawless event experience.
FAQs Answered: From Venue Tours to Wi-Fi Access
Schedule a Venue Tour: Prospective clients are encouraged to schedule an appointment to explore the enchanting venue.
Stay Connected: Wi-Fi is available for guests and vendors to keep everyone connected.
Safety First: A security service is required for all events, whether alcohol is served or not.
Bring Your Appetite: Richland Pines welcomes BBQ pits and taco trucks to cater to guests' appetites.
Capturing Memories: Pets are allowed with guidelines; inquiries with management about bringing furry friends are encouraged.
Ease of Payment: Richland Pines offers multiple payment methods, from cash to Zelle/PayPal, to suit preferences.
Visitors to Richland Pines Event Venue can embrace the charm of rustic elegance in a natural haven for their unforgettable celebration.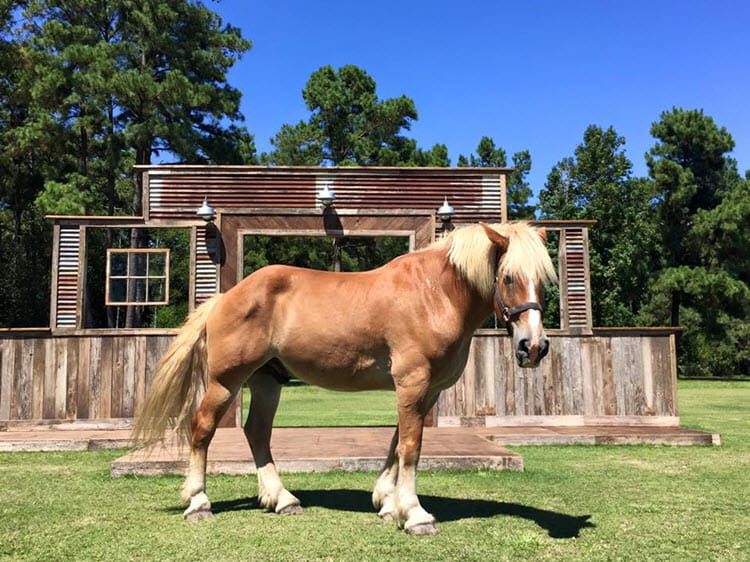 Honorable Mentions
The Clubs at Houston Oaks:
Location: Situated in Hockley, Texas, The Clubs at Houston Oaks is an exquisite wedding venue with stunning surroundings.
Facilities: This venue offers a variety of spaces for ceremonies and receptions, including a romantic chapel, ballroom, and lush outdoor areas.
Features: The venue boasts luxury amenities like a championship golf course, spa, and elegant accommodations.
Wedding Services: The Clubs at Houston Oaks provides top-tier wedding services and a dedicated team to make your dream wedding a reality.
15 Acres:
Location: Located in the heart of Houston, Texas, 15 Acres offers a charming rustic setting for weddings.
Facilities: The venue features both indoor and outdoor spaces, including a rustic barn, outdoor ceremony area, and a spacious reception hall.
Features: 15 Acres provides a picturesque backdrop with serene ponds, open fields, and a beautiful oak tree grove.
Wedding Services: This venue offers services, including event coordination, catering, and more, to create a memorable wedding experience.
That wraps up our six top outdoor wedding venues in Houston! Keep scrolling to learn more about outdoor wedding venue vibes, FAQs & more.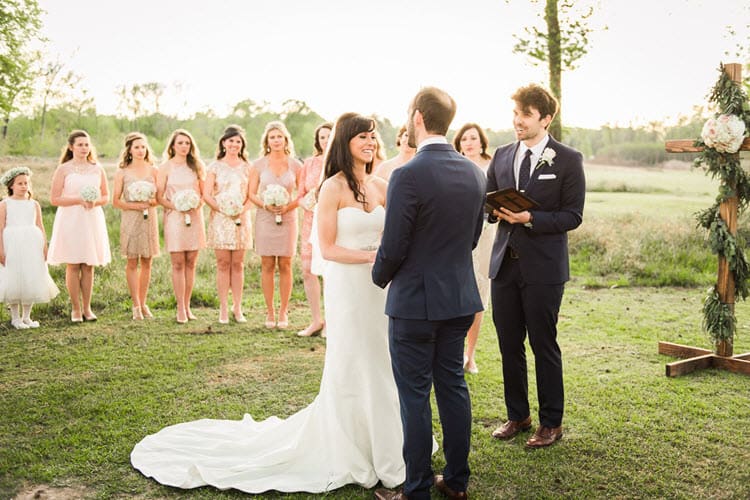 FAQs About Houston Outdoor Weddings
It's best to research each specific venue, but here are some general FAQs!
What makes outdoor wedding venues in Houston unique? Houston's outdoor wedding venues offer diverse settings, from garden oasis to rustic charm, ensuring there's something for every couple's taste.
What is the best time of year for an outdoor wedding in Houston? Spring and fall are popular choices due to milder weather. However, Houston's mild winters also make it an option year-round.
Can I have both the ceremony and reception outdoors at these venues? Many venues in Houston offer both outdoor ceremony spaces and outdoor reception options, creating a seamless flow for your special day.
What backup plans are available in case of bad weather? Outdoor venues often have backup plans, like covered pavilions or indoor spaces, ensuring your wedding can proceed smoothly regardless of the weather.
Are there options for smaller, intimate outdoor weddings in Houston? Some venues cater to intimate gatherings, providing a cozy and romantic atmosphere for smaller wedding parties.
Do outdoor venues provide seating arrangements and decorations? Most outdoor wedding venues offer customizable seating arrangements and decor options to match your wedding theme and style.
Can I bring my preferred catering or must I use the venue's catering services? It varies by venue, but some outdoor venues in Houston allow you to bring in your preferred caterer, providing flexibility for your menu choices.
Are there nearby accommodations for guests traveling to the wedding? Many outdoor wedding venues in Houston have partnerships with nearby hotels or accommodations for the convenience of your out-of-town guests.
What are the restrictions regarding music and entertainment at outdoor venues? Ensure you understand any noise restrictions or sound system requirements when planning your outdoor wedding entertainment.
What unique photo opportunities are available at these venues? Houston's outdoor wedding venues offer picturesque backdrops, including gardens, lakes, and scenic landscapes, providing endless possibilities for stunning wedding photos.
Sources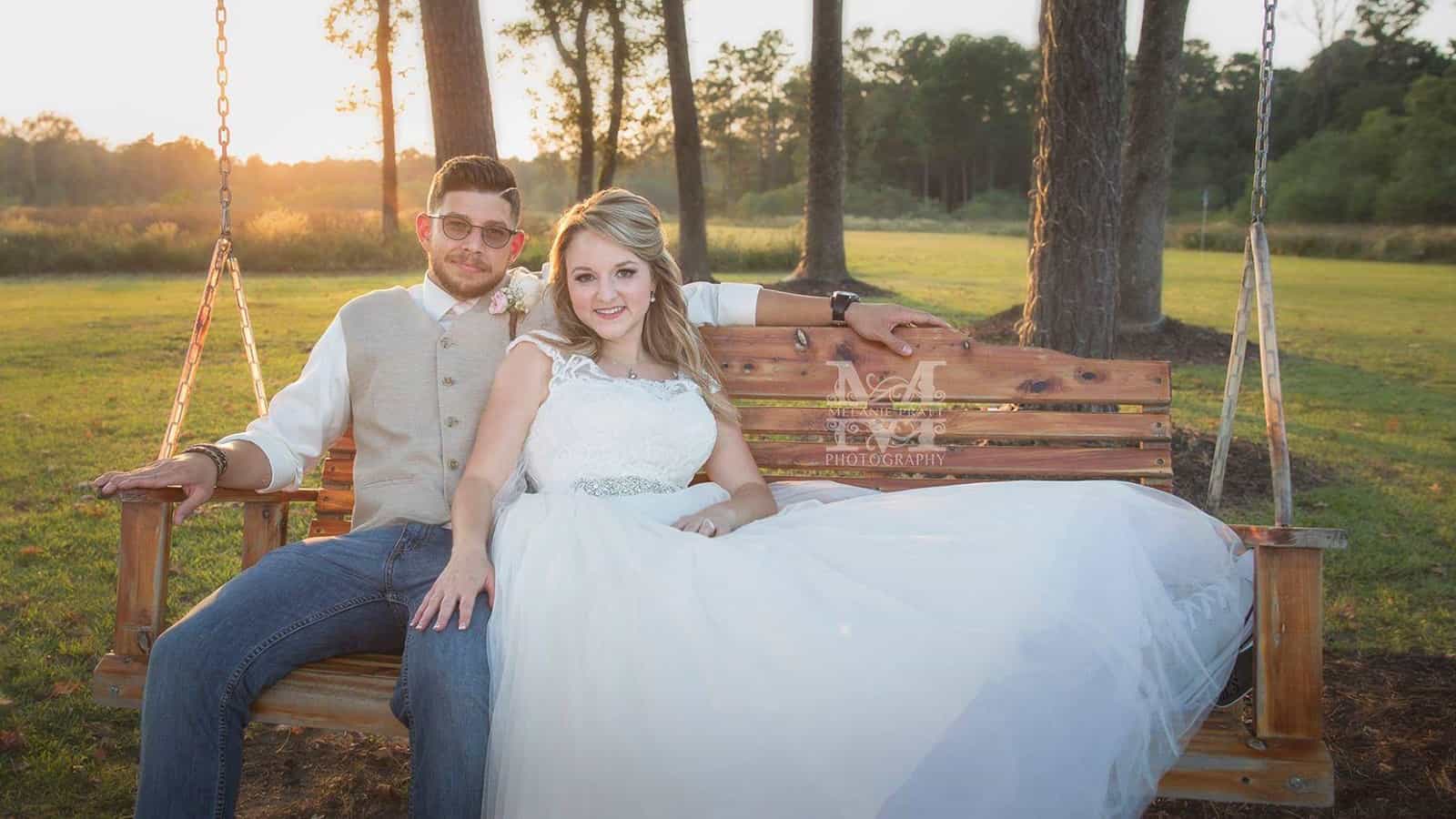 The Best Towns to Search for Houston Outdoor Wedding Venues
| | |
| --- | --- |
| Towns and Cities | Description |
| Houston (HTOWNNNN) | The largest city in Texas and a hub of diverse wedding venues, from urban to historic. |
| The Woodlands | Known for its lush parks and upscale venues, offering a serene suburban setting. |
| Katy | A growing suburb with a mix of modern and rustic wedding venues. |
| Sugar Land | Offers elegant venues with a touch of Southern charm and a suburban atmosphere. |
| Galveston | Perfect for beachfront or historic weddings, offering a coastal vibe. |
| Cypress | Known for its spacious venues with a touch of Texas countryside charm. |
| Pearland | Offers a mix of contemporary and traditional venues in a suburban setting. |
| Spring | Known for its picturesque gardens and estates, ideal for outdoor ceremonies. |
| Conroe | Offers rustic and waterfront venues for a romantic, natural setting. |
| Tomball | Known for its historic venues and Southern hospitality. |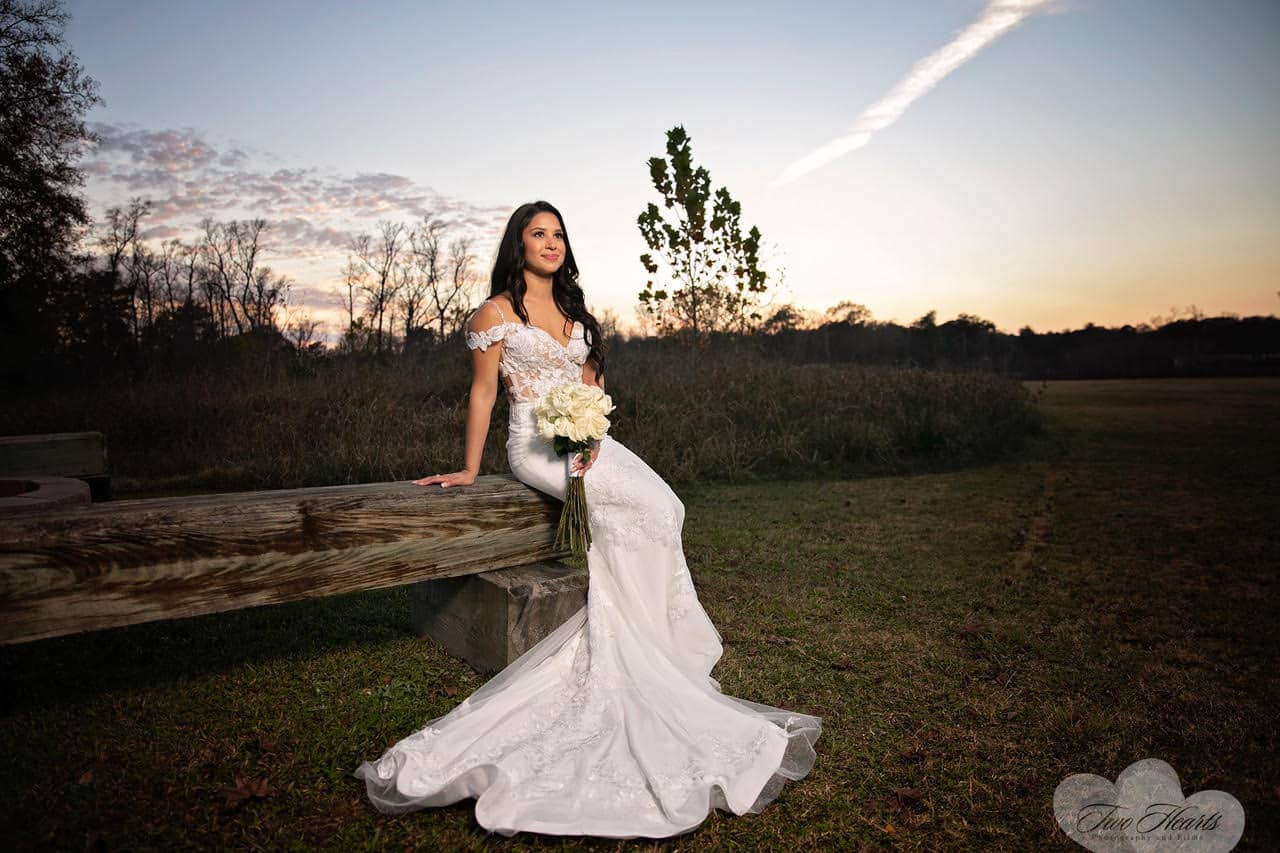 Wishing you the best of luck in finding your perfect outdoor wedding venue!
Embrace the journey of planning your outdoor wedding, and may it be a beautiful prelude to the lifelong adventure that awaits you. Here's to a day filled with love, laughter, and cherished memories that will last a lifetime. Cheers to your love story and the beginning of a wonderful chapter together!